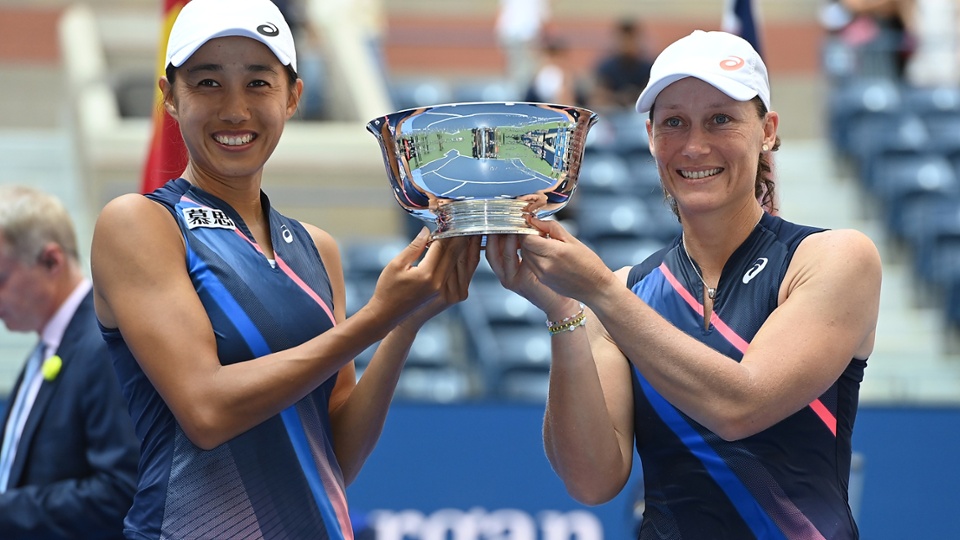 China's Zhang Shuai Crowed US open Women's Doubles Title
China's Zhang Shuai and partner Samantha Stosur of Australia were crowned as women's doubles champions at the 2021 US Open after beating the US teen duo of Coco Gauff and Caty McNally.
Zhang, 32, and 37-year-old Stosur won in three sets – 6-3, 3-6, 6-3 – to lift the trophy two years after they had together won the women's doubles at the Australian Open.
The Chinese-Australian pair's previous best at Flushing Meadows was when they reached the semis at the 2018 US Open but they came into this year's tournament on the back of winning the Western & Southern Open in Cincinnati after reuniting.
They extended their winning run to 11 matches, though the No 14 seeds did not have it all their own way as they dropped their first set of the tournament , when No 11 seeds Gauff and McNally bounced back with victory in the second set.
"It was just such a tight tussle the whole match, a few points here and there. We stuck together as a team, played aggressive, went for it as we always do, and it pays off," Stosur said after the win.
"We are so good friends, forever," Zhang said. "When we're on court, no matter [if] we win or lose – yes, today we won – but some days we lost, it's OK. We're still happy on court. Now nothing can break us, I think. We will for sure play together more."
HK teen Coleman Wong Won US Open boys' Doubles Title
Hong Kong teenager Coleman Wong Chak-lam made history at the US Open in New York on Saturday when he became the first Hongkonger to claim boys' doubles grand slam title.
Alongside his playing partner, Max Westphal, 17-year-old Wong defeated the eighth-seeded pairing of Viacheslav Bielinskyi from Ukraine and Bulgarian Petr Nesterov to seal the championship 6-3, 5-7 (10-1).
Wong, who was eliminated in the second round of the boys' singles at Flushing Meadows, only began competing at junior grand slam events this season.
He and American partner Ethan Quinn were knocked out in the second round of the Roland Garros Junior Championships in June, and he and Spain's Daniel Merida Aguilar lost out in the opening round of the The Junior Championships at Wimbledon in July.
Wong first partnered with 18-year-old Frenchman Westphal a few weeks ago at the J1 College Park event in the US, a warm-up for the US Open Juniors, where the duo reached the semi-final.
"I finished five matches this week, and I felt stressed after each one because they all went to a tiebreaker," Wong said. "Thank you to the Hong Kong Tennis Association, who assigned me a coach for the last three months even though I hadn't played in over a year and I didn't play well when I resumed training. But now I feel very happy to win the championship."
Promising Wong, a five-time ITF junior circuit singles winner, ended the 2020 season ranked 50 in the ITF's junior singles standings.
ITF World Number 1, Juncheng Shang from China miss the Boys Singles Title
Daniel Rincon from Spain, seeded 3 at 2021 US Open Boys singles event proved too heavy for the top seeded Juncheng Shang from China to handle in the singles.
The Spaniard emerged winner in straight sets with a 62, 76(6) victory to lift the boys singles title.
Rincon served past his higher ranked opponent while smashing 7 aces in the finals, while Shang did not help his own cause by serving 4 double faults. Rincon was also more consistent of the 2 youngsters, hitting 75% first serves in and committing lesser unforced errors at 14 as compared to 19 by Shang
Rincon broke Shang in the 6th game of the first set to gain the momentum and then closed out the first set in 25 minutes by breaking Shang again in the 8th games.
Second set was a relatively close affair and the set hung in balance mdi way through till the 6th game. Shang broke Daniel in the 7th Games to move ahead 4-3 and held on to his service in the next game to move ahead 5-3. Shang was serving for the 2nd set at 5-4 and had few set points but Daniel broke him to level the second set at 5-5, which eventually went into the tie breaker. Daniel won the breaker 8-6 to seal the boys' singles crown.
Japan's Shingo Kunieda defends US Open wheelchair men's singles title
World No. 1 Shingo Kunieda defeated No. 2 Alfie Hewett of Britain, 6-1, 6-4 to capture his eighth title in men's singles at the U.S. Open wheelchair tennis competition on Sunday, 12th September 2021.
The Japanese top seed and newly-crowned Paralympic gold medalist has won the U.S. Open singles event on seven occasions, in 2007, 2009 to 2011, 2014, 2015 and 2020, in addition to taking the doubles title in 2007 and 2014.
"I think I played my best tennis here and at the Paralympics," said the 37-year-old Kunieda, who won his fourth Paralympic gold medal in Tokyo earlier this month.
It was the third time since 2018 that Kunieda and Hewett have met in the final in New York, with Hewett having won their 2018 title  before Kunieda won his seventh U.S. Open title in 2020 in a third and final set tiebreak.
In the wheelchair women's singles final, Yui Kamiji from Japan was beaten by Diede de Groot of the Netherlands 3-6, 2-6 after winning singles silver in her home Paralympic Games in the women's wheelchair final.
"I tried to put pressure on my opponent. I tried to keep the ball low and hit cross-court shots but I lacked accuracy," Kamiji said.
"I was on a tight schedule coming here right after the Paralympics but I'm glad I competed," she said.
In the doubles event, World Number 2, Yui Kamiji lost to Diede de Groot by 1-6, 2-6 partnering with Jordanne Whiley from United Kingdom and Aniek Van Koot of Netherland respectively.
Comments are closed.