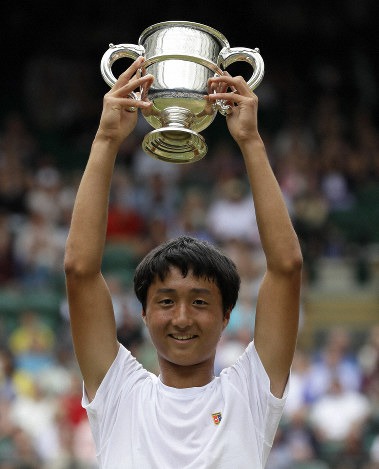 Shintaro Mochizuki made history on Sunday 14th July 2019 by becoming the first Japanese player to win a Grand Slam title beating Carlos Gimeno Valero of Spain by 6-3, 6-2, in the Wimbledon boys singles final.
Mochizuki became Japan's only second Grand Slam junior champion, following the footsteps of Kazuko Sawamatsu, who captured the Wimbledon and French Open girls' titles in 1969.
Shintaro Mochizuki who has never competed in a grass court admitted he was initially overwhelmed on the No.1 court. However, the 16-year-old backed his aggressive backhand throughout the contest and went on to win 17 of his 23 points at the net to seal victory in 61 minutes.
Still, as he embellished his victory with some expressive celebrations, Mochizuki also showed an ability to perform on a big stage. "I'm really happy with that, but I don't want to be too happy because I have more tournaments coming up so I just want to focus on them. I just want to work hard," he said
Mochizuki who also practice with Kei Nishikori sometimes said he learned a lot from his compatriot, 2014 US Open finalist Kei Nishikori.
"He is promising," Nishikori said of Mochizuki." He is still young, needs more time, but his play is attractive, he can play in various ways. I can't wait to see what happens to him in the future. Hopefully I'll see someone surpass me someday."
Comments are closed.