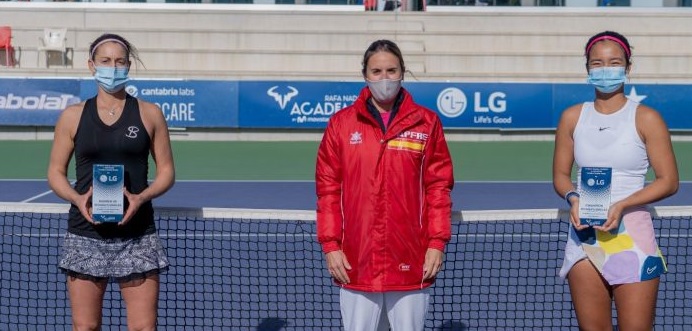 The 15-year-old Alexandra Eala from the Philippines captured her first professional ITF women's title at the Manacor, showing her rich potential and becoming the one to watch in the upcoming years.
Following the final, Nadal congratulated Eala on her young career's significant moment, urging her to work hard and achieve even more in the years to come.
Eala, the current junior world No. 3, has become something of a trend-setter for the Philippines. She reached the semi-finals of the girls' singles event at Roland Garros last year and won the girls doubles at the 2020 Australian Open alongside Indonesian Priska Madelyn Nugroho. She was the first Filipino to win a Junior Grand Slam title since Francis Casey Alcantara won the boys' doubles at the 2009 Australian Open.
In 2019, she was also part of the first Filipino team to qualify for the World Junior Tennis Finals since 1993, ultimately helping them to a quarter-final finish.
Competing at her sixth pro event of her career, Eala defeated five rivals to lift the trophy and write history.
Eala made a perfect start against 15-year-old Anna Paradisi, toppling the Italian 6-1, 6-2 in an hour and 15 minutes in opening round.
Thereafter, She defeated the top seed Seone Mendez from Australia 6-4, 6-1 in round two to enter the quarters, spending just over two and a half hours, the youngster needed everything from her body to overcome the 5th seed Carole Monnet 6-7, 7-6, 6-4 in three hours, taking the second set tie break 7-4 and serving well in the decider to reach the semis.
In the semifinals, Eala defeated Adithya Karunaratne from Hong Kong 6-3, 6-4 in an hour and 36 minutes, delivering better numbers behind the second serve and scoring six breaks that carried her home.
Setting the final clash with Yvonne Cavalle-Reimers, Alexandra stood strong in sets two and three to move over the top and win the title, beating the Spaniard 5-7, 6-1, 6-2. Remarkable come back from the youngster by wiping off deficit of a set and winning the title.
Comments are closed.