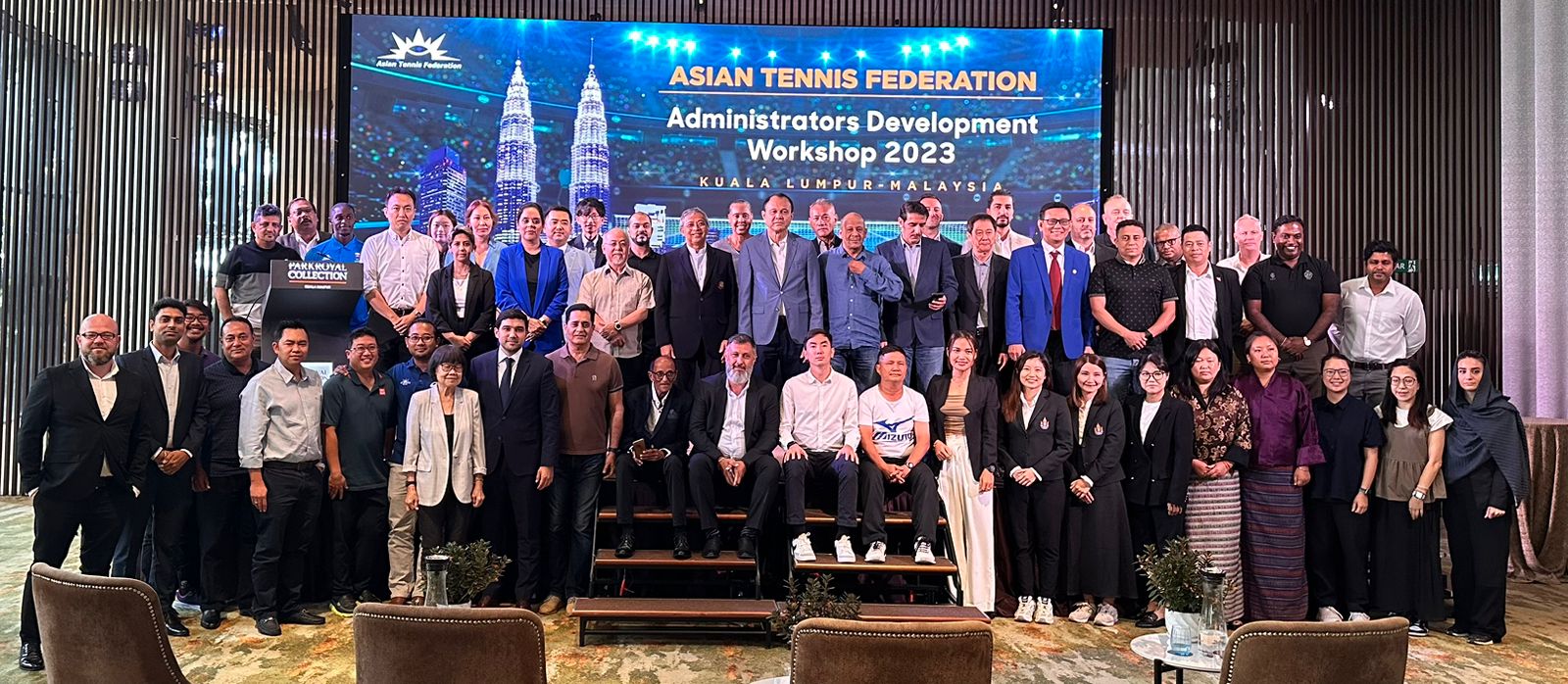 ATF Administrators Development Workshop hosted by ATF in collaboration with LTAM (Lawn Tennis Association of Malaysia) was held at Park Royal Collection, Kuala Lumpur, Malaysia from 19 to 20 August 2023. The workshop served as a platform for fostering collaboration, sharing insights, and enhancing expertise within the realm of tennis administration and the workshop equips participants with the knowledge and tools necessary to navigate the ever-evolving landscape of tennis administration in Asia. The workshop saw participation from 31 Asian nations.

The workshop started on 19th August Saturday with the inauguration and the welcome of delegates & introduction to the national federations. ATF President, Mr Kitsombat Euammongkol made a presentation to Mr. Mirzan Mahathir, President LTAM in recognition for the support and organization of ATF Administrators Development Workshop 2023.

Mr. Mirzan Mahathir (LTAM) extended a warm and heartfelt welcome to ATF President and other esteemed delegates from Asian nations. The President's words underscore the workshop's significance – a convergence of diverse perspective, united by a shared ambition to drive administrative excellence.
After the opening remarks by the host nation President, the stage was set for engaging, informative session and presentations. Ms. Manpreet Kandhari shared her insight into the Asian updates and comprehensive overview of the latest developments across Asia.

The series of of insightful presentations by ITF executives, Ms. Debbie Kirkwood, Head ITF Performance & Events , Mr. Amir Borghei, ITF Development Officer WA -CA and Mr. Jonathan Stubbs ITF Development Officer SA, SEA & EA. Their presentations covered a wide spectrum of topics, ranging from performance & events, innovative and development strategies.

ITF-ATF Calender 2024 was discussed on interest to host activities & events, The discussion centered around identifying key dates, aligning with organizational goals, and ensuring a diverse array of engaging experiences.

As we moved forward, Matt Byford shared online presentation full of information and facts showing growth of Masters Tours in recent years across Asian nations and emphasising the numbers of active players and number of tournaments rising every year.
Day two, 20th August commenced with the presentations by Mr. Puneet Gupta. The presentations showcased a valuable insights into the dynamic landscape of activities within our region. Later the stage was all set to launch much awaited WTN (World Tennis Numbers) for Asian juniors. President ATF, Mr. Kitsombat Euammongkol with esteemed delegates Mr. Mirzan Mahathir President, Tennis Malaysia, Mr Dato Patrick Vice president Tennis Malaysia, Mr. Gilbert Ng Member ATF BOD & Mr. Rithivit Tep Member ATF BOD launched the WTN for Asian Juniors.
This platform is likely to provide a fantastic opportunity for young tennis players to connect, develop their skills, and engage with the sport on a broader level. It's a positive initiative that could contribute significantly to the growth and development of tennis in the region.
Comprehensive overview 14 & 16 under circuit was presented by Mr. Dmitriy Savchuk. Online presentation by David Hearne focused on ITF Tournament Desk Platform providing insight on ITF WTN update, importance of digitalisation and overview of tournament desk platform.
Engaging discussions and thought-provoking Q&A sessions was the last leg of the workshop, our delegates showcased their expertise and shared practical insights that will undoubtedly shape the way we approach administration in our respective fields.
ATF Administrative Development Workshop has been a journey of growth, knowledge, and collaboration. Throughout our time together, we've explored the intricacies of effective administration, exchanged insights, and forged connections that will continue to shape our roles and responsibilities.
Comments are closed.