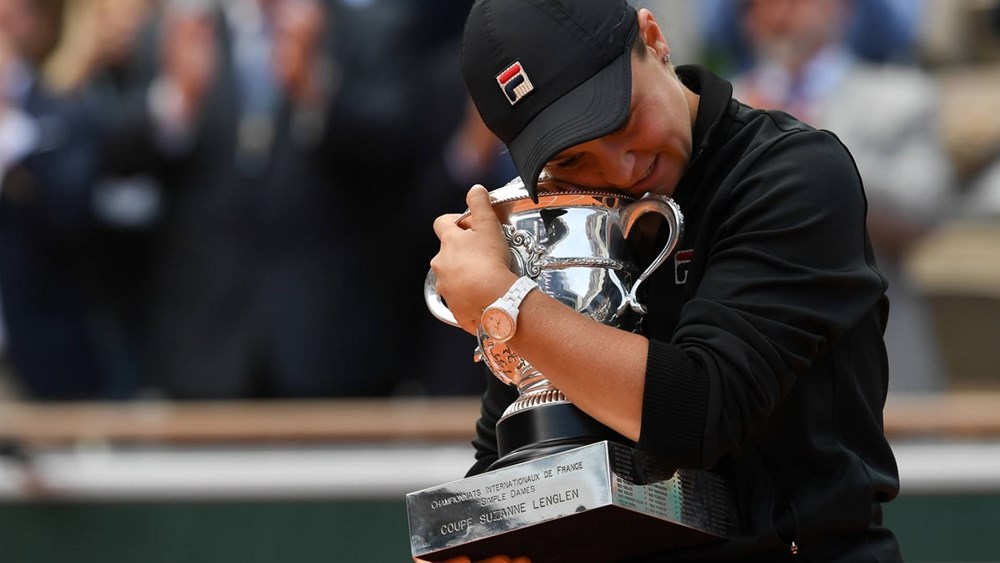 It was all Marketa Vondrousova could do to loft the ball high into the Parisian sky after another punishing cross-court drive from Ashleigh Barty. As it looped up and barely cleared the net, the Australian danced forward, sizing up her smash after the bounce before burying the shot with aplomb.
With that, she turned to her team, whispered a word, and held her head as the moment hit her: the player that once turned away from tennis was a Grand Slam champion.
"For the last fortnight, the stars have aligned for me," said the 23-year-old, who ran away with a 6-1 6-3 victory in the final. "I have been able to play really good tennis when I've needed it. This is just incredible. I never dreamt that I'd be sitting here with this trophy here at the French Open. Obviously we have dreams and goals as children, but this is incredible."
Almost three years to the day since she re-entered the WTA world rankings at No. 623 following a two-year spell playing domestic cricket in Brisbane, Barty will rise to No. 2 on Monday, the highest ranking for an Australian woman since Evonne Goolagong Cawley held the same spot in 1976.
Vondrousova, the first teenager to reach a women's singles final in a decade, will rise to No. 16 on Monday. The unseeded Czech 19-year-old was a revelation at Roland Garros, playing with verve, variety, and no sign of nerves as she beat four seeds en route to the final, her first ever match on Court Philippe Chatrier.
Once there, however, the Czech met her match. With winds still swirling around south-west Paris, she struggled for rhythm as Barty was quickly into her stride, playing clean, effective tennis from all corners of the court.
"I think she just gave me a lesson today," Vondrousova said. "She's playing too good – she's mixing things up, and she has a huge serve – so it's all very tough to play against. I didn't really feel good today because she didn't let me play my game, and it was really tough, but I don't know. I played my first Grand Slam final, so it's a good thing."
Better days await Vondrousova on the evidence of her run in Paris, twinned with a tour-leading 27-6 record since the Australian Open. But Saturday 8 June 2019 belonged to Barty – though she was quick to share the glory, paying tribute to the influence of fellow Queenslander and 2010 finalist Samantha Stosur, Australia's last Grand Slam champion, during the trophy ceremony before expanding on the village it takes to produce a Grand Slam champion.
"For a lot of the Aussies out there, I think for us it's a celebration of not just these two weeks but the last two or three years for myself and my team," Barty said. "I have an extraordinary group of genuine, authentic people around me. This is just a by-product of what we've been able to do, all the work that we have done, and it's incredible and I'm speechless."
For the second match in succession Barty got off to flying start, racing out to a 4-0 lead. This time, however, there would be no repeat of Amanda Anisimova's stunning recovery in the semi-finals, the 17-year-old American hitting back from 5-0 and two set points down to briefly lead the match with a 10-game surge. Once bitten, the Australian kept pressing after the Czech got herself on the scoreboard, breaking once more to seal the first set.
Despite falling a set behind at the start of the second set, Vondrousova made more of an impression, bringing up a break-back point in the next game that came and went, and staying in touch with Barty until serving once more at 5-3. From there, however, Barty stepped up the pressure once more, sealing victory on her first match point.
Asked later if she ever thought a Grand Slam title was a possibility so soon after her return to the sport, Barty admitted it had come as something of a shock.
"I think maybe in doubles, if I'm being completely honest," Barty said. "I was so close with Casey [Dellacqua] so many times. I felt maybe that was a possibility.
"But I think a new perspective in my life and in my career, it's brought this new belief, I suppose, and this feeling of belonging at the very top level. I feel like I'm playing some really good tennis. I know when I play my best tennis, I can match it against the world's best.
"I never closed any doors, saying I'm never playing tennis again," she added. "For me, I needed time to step away, to live a normal life, because this tennis life certainly isn't normal. I think I needed time to grow as a person, to mature. I left all of my options open. I think it was just a natural progression for me, coming back to tennis.
"I missed the competition. I missed the one-on-one battle, the ebbs and the flows, the emotions you get from winning and losing matches. They are so unique, and you can only get them when you're playing and when you put yourself out on the line and when you become vulnerable and try and do things that no one thinks of.
"We've had an incredible couple of weeks. The stars have aligned for us. And in a couple days' time, we will sit down and continue to work, chip away every single day and try and get better as a player and then work on our goals from there
Comments are closed.