Asian Tennis Federation hosted the first Webinar on Saturday, 27th June 2020 on the topic -­ "Officiating in Asia & Cohesive Working with the National Federations". Webinar was hosted on Zoom application with a total 140 participants  including representatives of the National Federations from Asia and Officials.
ATF  President,  Mr.  Kitsombat  Euammongkol  delivered  the  opening  address  and  welcomed the experts of the field and thanked Mr. Salim Saifullah Khan, Chairman, ATF officiating & Tournaments Committee for his valuable inputs and participation. President assured that ATF will be working forward towards raising more opportunities for the development of Officiating in Asia and welcomes suggestions from all. Mr. Salim Saifullah Khan also encouraged the panelists and attendees and shared his experience and vision for the future. There was an active exchange of ideas and experience between the distinguished panelists.
The webinar aimed to understand the journey of Asian officials into the world of officiating. The journey from being a novice to a professional official. It highlighted the close cooperation and role of a National Federation in developing an official with the opportunities being made available to officials at domestic level and the boost it gave to officials in their progress at international levels. Also, the discussion was about how officials cope up during this pandemic COVID-­19 as for the moment.
Distinguished  Speakers  during  the  webinar  were  Dr.  Ashraf  Hamouda  from  Qatar,  Meruyert Kaukeyeva from Kazakhstan and Amorn Duangpinkum from Thailand.
Ashraf Hamouda
A qualified Medical Doctor, who preferred officiating as a career.
Earned his white badge in 1997 and his Bronze Badge in 1999
Moved on to become Silver Badge Referee in 2006 and earned promotion to Gold Referee in 2017.
Got his Silver Chief badge in 2003 and was promoted to Gold in 2006.
Presently working at Qatar Tennis Federation and is also the Head of Officiating for Qatar.
Has  worked  at  Grand  Slams  many  times,  and  is  also  one  of  the  Technical advisors at Wimbledon.
Very experienced official and a well-­known figure.
Meruyert Kaukeyeva
Started as a tennis player & moved on to become a coach.
Attended national officiating seminar in 2014 and was motivated to become an official.
Worked at Kazakhstan Tennis Tour Department for a few years.
Gained White Badge-­Chair in 2016, White Chief in 2019 and Bronze Chair in 2019.
Is part of "WTA Development and Promotion Group"
A Women's ambassador in ITF Initiative of "Advantage All" in Kazakhstan.
Amorn Duangpinkum
Started as a court service but was soon attracted to officiating.
Gained his White chair in 2007 and Bronze chair in 2011.
Jumped lane to become International Silver Referee in 2014.
Presently also Head of Officiating at the Lawn Tennis Association of Thailand.
Has officiated at Wimbledon 3 times, numerous ATP challengers as chair and referee at many Davis Cup ties and ITF World Tennis Tour events.
Popular face in Thailand and amongst all Asian officials.
All the three distinguished speakers gave presentations on their journey in Officiating in Asia and growth. They complimented and thanked the ATF for the initiative and assured of their support for future projects also. They emphasized and encouraged the new officials to work in close cooperation with the National  Federations. They explained that they had all gained immensely with their cohesive working with the Federation.
The two Regional Officiating Coordinators of ITF for Asia, Mr. Nitin Kannamwar and Mr.  Andrey  Kornilov,  were  also  present  and  shared  their  experience.  Nitin  also  updated on forthcoming webinars by ITF on officiating and program of Grant for the National Federations to conduct one day officiating seminar / four hours of webinar.
ATF would like to thank all participants who were with us for the Webinar.
ATF would be hosting regular webinars on different topics involving experts of the field.
We are looking forward to the upcoming webinar with the new topics, so please keep in touch with ATF Facebook and Instagram and please feel free to share thoughts to us via ATF email: info@www.asiantennis.com.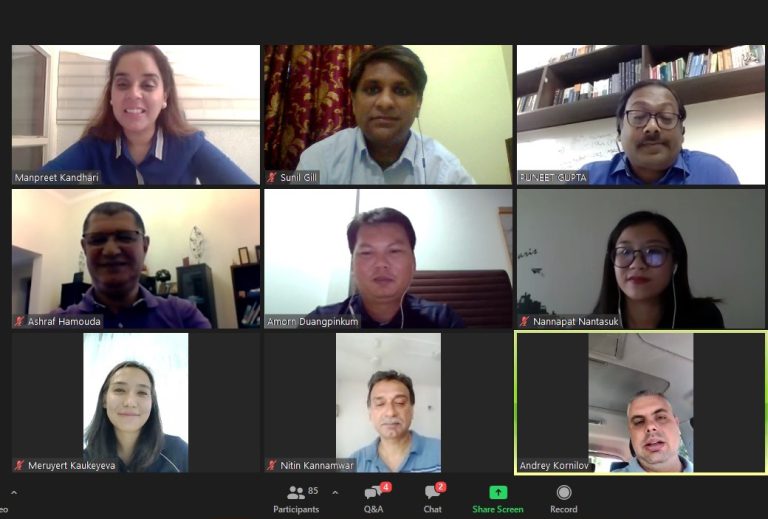 Comments are closed.